On the morning of 1 September 2004, children and teachers all over Russia were getting ready for the first day of the new school year.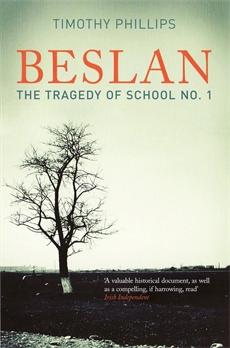 So begins Timothy Phillips' account of the terrible siege of School No. 1 in Beslan, North Ossetia. Of course, we know now that that day three years ago which began as a celebration was to turn into the worst terrorist atrocity in Russian history. But although we remember the harrowing scenes filmed by the terrorists in the school gymnasium on the camcorders which proud parents had brought to the parade, and the disastrous, chaotic end to the siege in which so many people died, many of us may have a sketchier understanding of what lay behind those events: Who were the hijackers? What motivated them? And what why did they come to Beslan?
These are among the questions that Timothy Phillips tries to answer in his book on the siege. He travelled to Beslan a few months after the siege and spoke to those involved. In the interview, I ask him about his feelings when for the first time he stood in the ruined gymnasium, still full of floral tributes, messages and soft toys .
'Across the hall three teddy bears faced a collection of stuffed rabbits, ducks and frogs'
He also talks about the conspiracy theories which have abounded since the siege and whether anything in Russia has really changed as a result. But most of all, he went in search of the stories of the ordinary people who woke up one morning excited about a day of celebration and instead found their lives changed forever in the most appalling way.
Podcast: Play in new window | Download
Here are some of the reviews the book received:
"Timothy Phillips, a translator of Russian and a specialist on the Caucasus region, had access to many of the Beslan survivors and has used their accounts to put together the first written narrative of the tragedy. He also broadens the story to include an investigation of the town and its culture"
– Sunday Times
"Timothy Phillips has written a book that enables us to look at the siege not as a one-off tragedy, but as one episode in a troubled history of the region that began with the Russian civil war of 1918 … It is the frankness of the participants that makes this such an important work for any reader who wishes to understand what is happening in the North Caucasus. And it is in this that the great talent of the author shines brightest. Many questions remain, questions that the survivors asked rhetorically of the author and other questions that arose in the author's own mind … Phillips is not so reckless or so naïve as to attempt to answer them, but he gives them new life. From the mass of information at his disposal he has woven a many layered but accessible tapestry of life in one of the most complex and explosive regions of the world"
– Guardian
"Traumatic events and the truth about them rarely sit comfortably together. In Beslan, Timothy Phillips provides a skilful and sensitive account of the shocking events of September 2004, when a school in the North Caucasus was attacked by a group of thirty or so terrorists … In this impressive book, Phillips manages simultaneously to offer a detailed account of the historical context of the atrocity, as well as the personal details of individuals caught up in the events. This makes for painful reading. He provides clarity about the wider ethnic tensions central to this tragedy, while remaining true to the memory-shattering confusion that such a trauma brings in its wake … This excellent book also reminds us that, once the global media have moved on from a place where something terrible has taken place, the real work of finding out what happened begins"
– Independent
"Timothy Phillips, on the other hand, has done a heroic and, one might have thought for a foreigner, impossible job: he has reconstructed from the testimony of many hundreds of witnesses the hellish events of that September … His work is a fit memorial to the dead … Timothy Phillips's book provides the victim's story."
– Literary Review
"Timothy Phillips allows the survivors to speak for themselves, and they tell a harrowing tale… As well as providing a valuable account of what actually happened inside the school, Phillips shows how this atrocity was was an outgrowth of modern Russia, a society driven by violence and corruption, and the history of the north Caucasus"
– Irish Times
'Fine and subtle… The book, based on extensive interviews, rouses pity and horror'
– Financial Times
'Phillips emphasises the social and cultural importance of the first day of school for Russian kids and their parents -it's a big event, a celebration of education. With this in mind, the massacre of 360 people, children, parents and teachers, taken hostage in 2004 by terrorists, becomes even more significant and horrifying'
– The Times
'**** Mixing survivor testimonies with a potted history of ethnic conflict in the North Caucasus, Timothy Phillips not only reconstructs the tragedy with clarity and objectivity, he uses it to illuminate deeper-rooted political and social corruption'
– Metro
"On 1 September 2004 Chechen terrorist took more that 1,200 people hostage at a school in a small southern Russian town…In this compelling account, BBC translator Timothy Philips interview the survivors. Perceptive and emotional"
– Esquire
"Timothy Phillip's scholarship, his understanding of the people of all ethnic groups in the region and his involvement with them, make this a valuable historical document, as well as being a compelling, if harrowing, read"
– Irish Independent
"This book, written by the main translator for the BBC's Beslan documentaries, attempts to analyse the events and put them into a historical context, explaining the myriad tragedies and enmities that have left the North Caucasus strewn with conflict… If nothing else, the claims, counter-claims and rumours which have surrounded the tragedy mean there is a need for a book which describes the events themselves, their chronology, and the facts and figures. This book does more, including giving insights into possible divisions among the terrorists and highlighting the still unanswered questions… The book paints a picture of complete chaos and mishandling of the siege on both sides. The idea of grimly determined automaton terrorists, fully aware of what they were doing, is cast into doubt. The chaos on the government side is set out in jaw-dropping detail… This book lays bare the dysfunctional state of modern Russia, and the Caucasus in particular"
– Scotland on Sunday
"This book tells the human story of the siege in the words of those who witnessed and were affected by it and examines the response of the Russian authorities. Inevitably, this is a difficult and emotional read: events are examined in vivid detail. You desperately hope for a happy ending, already knowing the tragic outcome"
– Waterstones Books Quarterly
"A moving ground-level account"
– Tony Wood, Times Literary Supplement