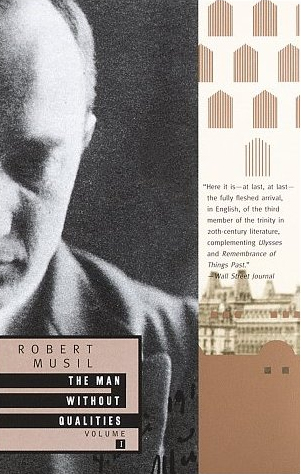 There was an entertaining piece by Joe Queenan in last Sunday's NYT about the pleasures of long books (and in particular the three volumes of Austrian novelist Robert Musil's Man Without Qualities), and the havoc they can wreak on the normal functioning of life (plus their value as a diversionary tactic):
For years, I'd been getting engrossed in enormous books while the house, the van, the very fabric of our lives kept disintegrating. And since my wife knew that Boswell's Life of Johnson was inching toward the on-deck circle, the odds of my getting around to buying a car were just about nil.
It set me thinking about my own record with very long books (less than illustrious), and in particular with what Queenan calls the 'Big Three of the 20th century — Ulysses, Remembrance of Things Past and The Man Without Qualities'. First I went to hunt down my own copies of Robert Musil's novel. I found them surprisingly quickly, considering my next discovery – I had bought the three Picador paperback volumes at intervals of approximately four months in the course of 1988. It's alarming discovering unfinished reading projects that date back twenty years.
I definitely remember reading the first volume, but I fear my purchase of the other two owed more to good intentions and desire for completeness than anything else. I remember I enjoyed volume one, but clearly other things got in the way of starting its successor.
I fared rather better with Ulysses (completed, probably around much the same time as the aborted Musil adventure) but I think my exploration of Proust sadly ran out of steam about three books in, postponed – my twenty-year-old self wishfully thought – until I 'had more time'. At that age, it's possible to tell yourself that you will 'grow into' these books in time. Two decades on, that's a harder one to convince yourself of.
Well, Joe Queenan's essay has inspired me to dust down my copies of Musil (I mean that literally; I found them on a high shelf at an altitude where dusters find the going a bit tough) and, my sails filled with the wind of new-found enthusiasm, the first volume doesn't even look that daunting from where I'm sitting…
If I achieve anything worthy of reporting back, I shall report back on my rematch with Musil.