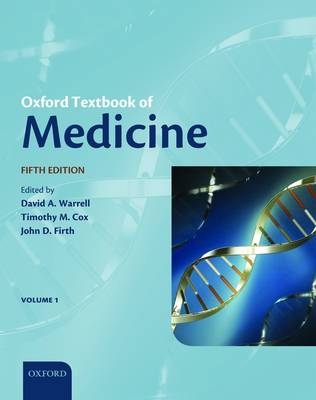 Earlier this year, just before Oxford University Press's flagship medical title, the Oxford Textbook of Medicine, went online for the first time, I met all three editors of the book and interviewed them about it. The book attempts no less than a full digest of the current state of medical knowledge, and is therefore a huge – and hugely ambitious – undertaking.
I was keen to find out more about the values which underpinned the book and also the practical side – how is it possible to stay on top of such a vast and ever-changing field, what does the future hold for the book now that it has gone online, and what are the pleasures of working on such a long-term project?
Though the book is intended primarily for professionals, it also finds its way into other contexts; it's often cited in courts of law, for example. So I hope that this interview will be of interest to medics and non-medics alike. After all, it's far from unlikely that at some point in your life a medic will refer to this book with reference to your own health care…
Key to speakers' initials:
DAW – David A. Warrell, Emeritus Professor of Tropical Medicine and Honorary Fellow of St Cross College, University of Oxford
TMC – Timothy M. Cox, Professor of Medicine, University of Cambridge; Honorary Consultant Physician, Addenbrooke's Hospital. Cambridge
JDF – John D. Firth, Consultant Physician and Nephrologist, Addenbrooke's Hospital, Cambridge
1. First I asked about the origins of the book and the principles on which it was founded (DAW). Click here to listen to David Warrell's answer.
2. What is the audience for the book and how is that reflected in its content? (JDF, DAW) Click here
3. What sort of contributors have the editors recruited to the project? (JDF, TMC) Click here
4. What brief do the contributors get before they write their chapters? (JDF, DAW) Click here
5. What does the move online mean for the Oxford Textbook of Medicine and how will the book maintain its relevance? (JDF, DAW) Click here
6.  Do the editors need to be constantly aware of the need to balance the theory and practice of medicine in their presentation of it in the textbook? (JDF, DAW, TMC) Click here
7.  Medicine is practiced in very different economic, political and cultural contexts around the globe. How does the Textbook cope with that fact? (JDF, DAW) Click here
8. Does complementary medicine belong in a book on evidence-based medicine? (TMC) Click here
9. The chapter on psychiatry says explicitly that some readers may find it an unnecessary add-on. Clearly this is not a view shared by the book's editors. (TMC, DAW) Click here
10. I remarked that successive editions of the book must have reflected the changing role of the physician over the past decades… (TMC) Click here
11. … and also of course changes in human behaviour. (TMC) Click here
12. I wondered whether in a sense the whole book was a reflection of the editors' view of what the ideal physician would be like. (JDF, DAW) Click here
13. How will updates happen now that the book is available online? (JDF) Click here
14. Is there a danger that, with all the advances in contemporary medicine, the Textbook may cease to be able to keep up with progress? (JDF, DAW) Click here
15. Finally I asked all three editors for their personal impressions of being an editor of this flagship publication. (TMC, JDF, DAW) Click here
Podcast: Play in new window | Download