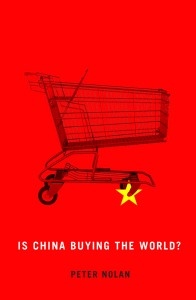 China is the world's second biggest economy and its largest exporter. It possesses the world's largest foreign exchange reserves and has 29 firms in the FT 500 list of the world's largest companies. 'China's Rise' preoccupies the global media, which carry regular articles suggesting that it is using its financial resources to 'buy the world'.
Is there any truth to this idea? Or is this just scaremongering by Western commentators who have little interest in a balanced presentation of China's role in the global political economy?
In this short book Peter Nolan – Professor of Chinese Management at the University of Cambridge and one of the leading international experts on China and the global economy – probes behind the media rhetoric and shows that the idea that China is buying the world is founded on misapprehensions.
To listen to extracts from an interview with Peter Nolan about this book, click on the links below. To listen to the complete interview, click here.
1. Peter Nolan begins by discussing the prevailing discourse in Western media, which maintains that China is buying the world. Click here [2:23].
2. I remarked that problems must inevitably arise when policy is built on misconceptions about China's intentions. Click here [1:48].
3. Even if it is not the case that China owns many Western companies, isn't it increasingly involved in infrastructure projects in the developing world? Click here [1:21].
4. Next, I asked Peter Nolan whether, even if he didn't share the fears about China's rise, he nonetheless understood where they were coming from. Click here [2:19].
5. It is a central component of the argument of this book that over the past thirty years Western firms have changed their way of doing business and now have a highly significant presence in countries such as China. Peter Nolan discusses this development here [8:34].
6. Following on from the point above, Peter Nolan explains why it has been so difficult for China as a recent entrant to penetrate Western companies and why those companies dominate global industries such as banking, aviation and technology, including new green technologies. Click here [10:29].
7. Finally, I asked Peter Nolan for his thoughts on how China's leaders look on their country's future as a global commercial power. Click here [5:21].