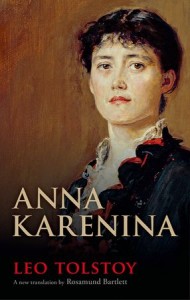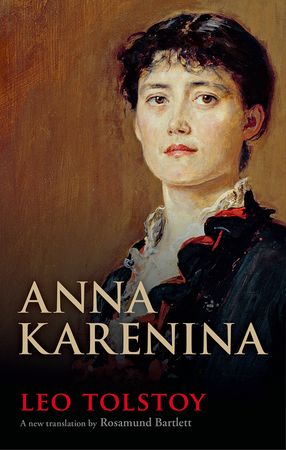 For this, the second in a series of Conversations with Translators (following my interview with Oliver Ready on Crime and Punishment from earlier this year), we stick with the Russians and turn to a new version of Anna Karenina produced by Rosamund Bartlett for Oxford University Press.
This was in fact my third visit to see Rosamund – we met previously to talk about her Chekhov translations, About Love and other stories, which is published in Oxford World's Classics and again in 2010 when her acclaimed biography of Tolstoy came out. Of this life, A.N. Wilson (himself one of Tolstoy's biographers) wrote: "The extraordinary character of the giant is captured better by Bartlett than by any previous biographer" and former archbishop of Canterbury Rowan Williams  – who is also a Russianist and translator – chose it as one of his books of the year and called it "superbly readable". You can hear my interview with Rosamund about the biography here.
In this new interview (click on the Soundcloud player above to listen), we talk about how Rosamund came to translate one of the greatest of Russian novels, what the challenges were and what she learned along the way. Here's a short extract from the interview:
George Miller: Tell me how you became a translator from Russian…
Rosamund Bartlett: Well, I never set out to be a translator. I'm quite surprised that I've become one. I did a few translations of a contemporary woman writer called Victoria Tokareva in the early 1990s. That was before everything really took off and was transformed in Russian literature. Then I got totally absorbed in writing up my doctoral thesis as a book and thought I was going to be mostly writing about Russian literature and Russian culture rather than translating, and in fact was probably heading towards a career  in historical musicology, as my thesis was on the influence of Wagner on Russian culture. And actually it fed into my work as a translator, that musical background. But I wanted to think about a new book to commemorate the centenary of Chekhov's death in 2004 and had a go at translating Chekhov's story, The House with the Mezzanine, and was quite surprised by how passionately interested I became in wanting to produce a really good translation and eventually I managed to get a contract from Oxford World's Classics [for a Chekhov anthology]. And I thought probably that was it. But at the launch of my Chekhov biography, which came out in the same year as About Love and other stories, my Chekhov anthology, my editor at Oxford, Judith Luna, asked me if I knew of any translators who'd be keen to translate Tolstoy, as she was looking to revamp her Tolstoy list, because the major [OUP] translations of the Tolstoy novels had been completed about a hundred years ago. And I'd already conceived in the back of my mind this crazy idea to write a biography of Tolstoy, and had found it so absorbing and stimulating to be at one and the same time translating Chekhov stories and writing his biography that I knew that it would be fantastic if, while I was writing this biography of Tolstoy, I was also engaged in translating him. And I managed eventually to win the commission to translate Anna Karenina and it's the first new translation of the novel that Oxford World's Classics has produced in 96 years.
George Miller: So it's the total immersion method you go for!
Rosamund Bartlett: I would say so. I think if you're going to be translating a writer, you need every help you can get to understand not only the language they write in and the peculiarities of their style, but also the background they've come from, the kind of life they're leading, and a lot about the kinds of things they're writing about. So if you're immersed in the life as a biographer, then you have a way in. And obviously if you're writing a biography, you have some unique insight as a translator, because you've been engaged in a very intimate way with the prose in Tolstoy's case. So I think they're mutually beneficial activities.
The character of Tolstoy comes up when you're translating him, as does the character of whichever author you're dealing with. It's been interesting for me to compare my relationship as a translator with Chekhov to that with Tolstoy. With Chekhov I felt there was always some kind of space in which there was almost an element of play involved, whereas with Tolstoy I feel as if I've been fighting him all the way through and he's always determined to get the upper hand. It's exhausting in that respect. It feels like he's determined to make it as hard as possible, he doesn't really want to give an inch. That probably sounds absurd, but that's how it feels!