"Schubert had a response to words that is quite extraordinary. It's the way that the interaction between words and music – which in a sense gives the song its own life – takes place that interests me. Josef von Spaun once wrote very perspicaciously that Schubert writes a poem on the poem, [by which he means that] the song is a commentary on the poem. And how and why it is a commentary in detail is what really interests me."
– Graham Johnson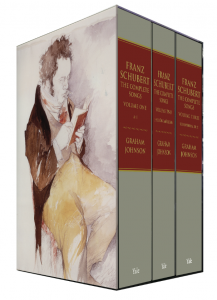 I was lucky enough to spend an afternoon with pianist Graham Johnson earlier this year and had the opportunity to talk to him about his abiding love for Schubert, the art of accompanying Lieder singers, and how he has managed to develop as a writer, while at the same time holding down the day job at the piano keyboard. The result is an in-depth, two-part portrait of the artist, the first part of which is above. Part two is coming shortly.
Here's an extract from my introduction to this podcast:
"Graham Johnson was born in 1950 in what was then Rhodesia. He came to this country in the late sixties to pursue his studies at the Royal Academy of Music in London, the city which has remained his home. In the mid-seventies, he formed The Songmakers' Almanac to explore neglected areas of piano-accompanied vocal music. Before long he had developed a reputation as one of the world's finest vocal accompanists, and although he has a deep knowledge of the English and French art song traditions, and has recorded and published on both, it is with German Lieder and in particular the music of Franz Schubert that he is most closely associated.
In this first part of our interview, we talk about Graham's early encounters with Schubert and the German language; his association with Benjamin Britten and Peter Pears; his decision to specialise in accompanying vocal music, and becoming a writer under the mentorship of Eric Sams."
You'll find more information about the Schubert companion on the Yale University Press site here. And more about Graham's Schubert Lieder cycle on the Hyperion site here.